Testimonials
Pastor Richard and Ally
Roby And Rae Pettit
Roby and I barely made it back from our honeymoon when we found out our youngest had special needs. Then it was hit after hit: terminally ill parents, threats by the ex, death, defiant children, medical problems. The heavy hitters kept coming fast and we were not prepared. But as God's timing would have it, we met John and Jaimi at church and soon sat down to dish out our greatest stressors. We began praying and they began suggesting ways we could strengthen our relationship and confront these issues TOGETHER. To this day, we continue what started in that little coffee shop and we praise God for it all!
Donavan and Natasha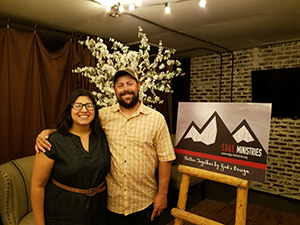 After 7 years and two children we decided to get serious about getting married. At a marriage retreat, even though we were not technically married, we decided to set a date to be married. We were both baptized at this point and both deeply wounded from previous relationships. We finally decided to muster up the courage to get married in April. One years later we realized that we were still strangers in our relationship; I poured myself 100% into our children and Donavan into his work. We were fortunate enough to have met John and Jaimi Jones shortly thereafter. We started going to the EDGE Ministry Marriage date night events. That gave us an opportunity to talk about deeper things on our minds and in our hearts that we were hesitant to talk about, to have conversations deeper than our day to day lives. It has helped show us what a deep meaningful relationship looks like, to not feel guilty about putting God first then our marriage then our children, because that is not the example or mindset that we were shown in our childhoods. They also helped us understand the importance of praying for each other, praying for our marriage and to always invite God in before we have a deeper conversation. That alone has greatly changed the tone of our conversations. We went from being defensive and feeling accused by one another to being able to see each other through God's eyes and hear with God's ears, to come from a place of compassion and understanding for one another. We feel very blessed to have met John and Jaimi Jones and to have been able to participle in the EDGE ministry events. Each event has taken us one step deep into our relationship not only with each other but with God as well.
Jeremie and Jessica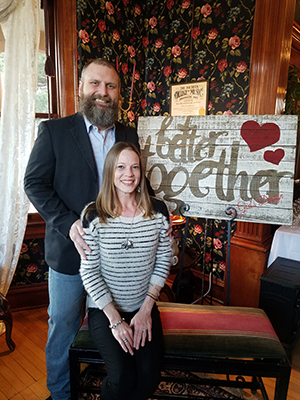 Jeremie & I met John and Jaimi at freedom 14 camp in Wimberley, Texas about a year and a half ago. It was a quick introduction where John & Jaimi stepped out in faith to introduce themselves and their ministry to us, all the while expressing their desire to expand their ministry's territory into the ArkLaTex & specifically Northeast Texas. Unbeknownst to The Joneses, Jeremie and I had recently been given a word about having authority over the territory in NETX we had just relocated to. Flash forward almost a year, and we finally made our way to OKC for an EDGE Event at an historic B&B downtown. What an amazing evening!! We were so touched and encouraged that we immediately begin to plan an EDGE event to be held in Mount Pleasant. That event was such a success that we've already planned another! The message that EDGE brings truly is life-changing. Learning to become intentional in our marriage, as well as in our relationship with God, has advanced our life in so many ways! The peace and understanding that is blossoming between us; the leadership role my husband continues to rise to; the opportunities and blessings that are coming as a result of our obedience to God's design for marriage are immeasurable. The very least we can do is partner with EDGE to carry this message into more communities. What an honor!!
Gregg and Gina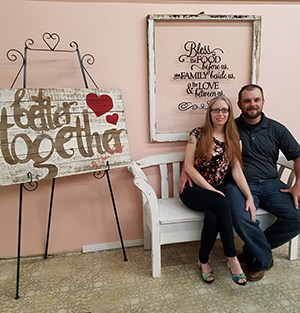 Gina and I wanted to share the amazing impact your ministry's Marriage Refinement Seminar has had on our marriage.
1st was our expectation going in, which was zero. We honestly felt we going to support some friends also at the seminar who had invited us. After all, after 16 years together what did we have to learn? We are walking right with Christ. We had, through Him, overcome major hurdles in our marriage Plus we truly love each other, and our relationship is the envy of all our friends. Just a little prideful to say the least, but we are not a "this saved our marriage" story. At least not in the immediate sense. It would have been someday if we didn't make the changes we made, but praise to God we won't have to find out!
2nd is what we actually got!!!
The reality of what our marriage looked like on a daily basis before: Lots of time together...staring at phones. Happily working together in our home...to serve the needs of our kids, pets, and guest before even allowing one moment to serve each other. Being involved in shared passions together...like getting everyone where they need to be on time and clean. Planning that dream vacation...to same places we've always gone to.
Our marriage wasn't bad. But was lacking so much and had fallen into routines that can be damaging over time that we were blind to. The realization that we were defining the "success" of our marriage by the worlds standards and not God's design was monumental for us...to seek him first and grow closer together by growing closer to Him. Because we absolutely did love each other going in, seeing how much more there was for us, lot us both on fire and absorbed as much as we could.
As we started our 2 hour drive home, we talked about how valuable the information was but felt like we'd need three days to soak it all in and actually wished it was a "camp". The whole way home, the radio was never on....no pit stops...nothing but going over the books. We tackled Boundaries first. After so many years together we thought we had boundaries, but had the complete wrong idea. That alone changed so much. We sanctified our bedroom; banning electronics, pets, and removing distractions like pictures of other people and remnants of our past before God that had been tucked away in box or drawer for years but had never been removed. We set aside significant time each day to intentionally communicate about the things we really want to know when we just used to ask "how was your day". We measured our families entertainment against the Godliness scale and those things that did not measure up to the boundaries we set were removed and replaced.
We then spent the next two days going intently over the books and realized that the seminar was camp!!! But it was a camp we were meant to do together. What needed to be done can't be done in coffee shop or conference room. That part of it was just the orientation for camp...the real fun started after ;) ! The seminar woke us up to what God intended our marriage to be, opened the ability to communicate with the same intent and language, armed us with the information we needed to move forward in the same direction, and ignited a desire to be better together by Gods design
Steve and Debbie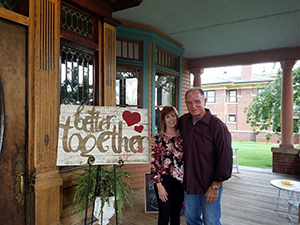 John and Jaimi,
My Wife and I recently attended your Marriage Enrichment Experience Retreat, "Have a Ferrari Marriage".
Thank you and EDGE Ministries for offering such powerful scripturally based truths, that every couple needs to hear. We appreciate the boldness of your presentation and only wish we had received these truths and promises earlier in our marriage. Thank you for sharing from your hearts. We strongly encourage others to attend one of these retreats and have your marriage blessed. What a tremendous experience the weekend was! We arrived in a Chevy but left in a Ferrari!
Leslie and Rochelle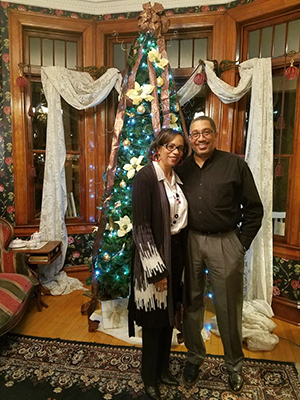 We are overjoyed and so looking forward to see how God is going to bless what we learned at this conference. It's made us look at what really make us a couple. We are still living out what we learned and what makes us better together!