Our Founders
John and Jaimi Jones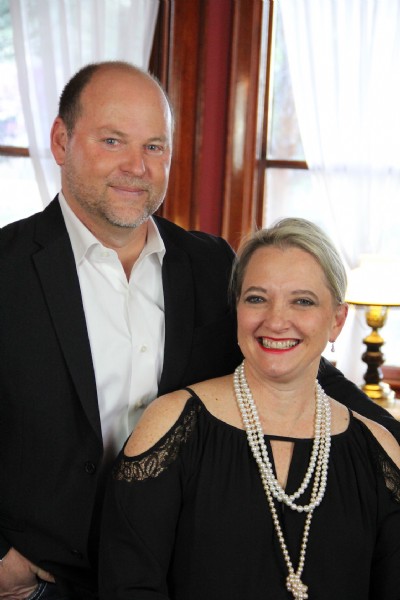 John is a pastor ordained by the National Association of Christian Ministers. John and Jaimi are teachers and mentors encouraging and teaching couples to live "life to the full" (John 10:10) by living out God's Design for Marriage, believing that "We are Better Together by God's Design".
John and Jaimi both come from broken first marriages. They married in July of 2012 with family and a small group of friends on a family ranch in Texas. John and Jaimi currently reside in Oklahoma. They have 6 adult children, 3 sons and 3 daughters. They have numerous grandchildren.
They began teaching a small group in their home within a year of being married. A year later they began teaching a marriage class once a week within their church. They hosted their first Marriage Conference Weekend in February 2016 in Oklahoma City with 11 couples.
They founded EDGE Ministries and became a 501c3 in November of 2016.
Their ministry vision is to invest TIME (Teaching, Instructing, Mentoring, Empowering) into couples, teaching them how to live out God's Design in their marriages; in order to become stronger. Helping each couple to understand how to become a Marriage of Influence. They accomplish this in several ways. They offer couples a one-on-one TIME program that lasts 12 to 18 months. They host monthly Date Nights with a Purpose in Oklahoma City and beginning in Tyler, Texas in 2020. They do Weekend Couples Conferences and All-Day Seminars. They come alongside churches to strengthen marriages, believing that changing one marriage can change a culture, one marriage at a time. They are excited about God expanding their territory of influence. They currently minister and host events in Oklahoma, South Texas, and Northeast Texas. They do one-on-one meetings with men, women, married couples, and engaged couples in person and online via Zoom.
What others have said:
Pastor Chris Roberts, EastPoint Church, Midwest City, Oklahoma "I love the heart and passion John and Jaimi have for strengthening and restoring marriages. The Biblical and practical teaching they bring to their marriage conferences, retreats, and events is extremely valuable. As a pastor, I have seen first-hand the devastations that come from the breakdown of marriages. The message, teaching, and mentoring that EDGE Ministries provides is more needed than ever. You will be blessed to have them in your church or to hear them at one of their events.
Date Night with a Purpose Participant: "Learning to put boundaries around our marriage was life changing. It was a game changer"
Conference Participant: "Thank you and EDGE Ministries for offering such powerful scripturally based truths, that every couple needs to hear. We appreciate the boldness of your presentation and only wish we had received these truths and promises earlier in our marriage. Thank you for sharing from your hearts. We strongly encourage others to attend one of these conferences and have your marriage blessed. What a tremendous experience the weekend was!"
TIME Participant: "Thank you for helping us learn how to listen to understand each other. We are still married because of the time you invested in our marriage."
Other:
Authors and Writers: We write our own material to teach biblical principles for couples to learn, understand, and apply to their marriages
Published in San Antonio Prayer Guide 2019
Published in Lovers Laine Magazine Nov/Dec 2019
Guest on Project One, Salem Media Group February 2020
Guest on Crossover Radio with Bridge Builders Marriage Ministry April 2019
Keynote Speakers at Oklahoma City Home Educators Leadership July 2016
Guest Speakers at Oklahoma City Home Educators Convention 2019
Presenters at Love and War Marriage Retreat, Wimberley, Texas, 2018 and 2019
John started and led Men's Ministry at two churches in Oklahoma City, OK 2014 to present
Jaimi was a presenter at Captivating Women's Retreat, Wimberley, Texas, 2018 and 2019
Jaimi started and leads a Women's Ministry in Oklahoma City 2017 to present