Christmas Celebration and Worship Night
Friday, December 10, 2021 from 6:30 PM to 9:00 PM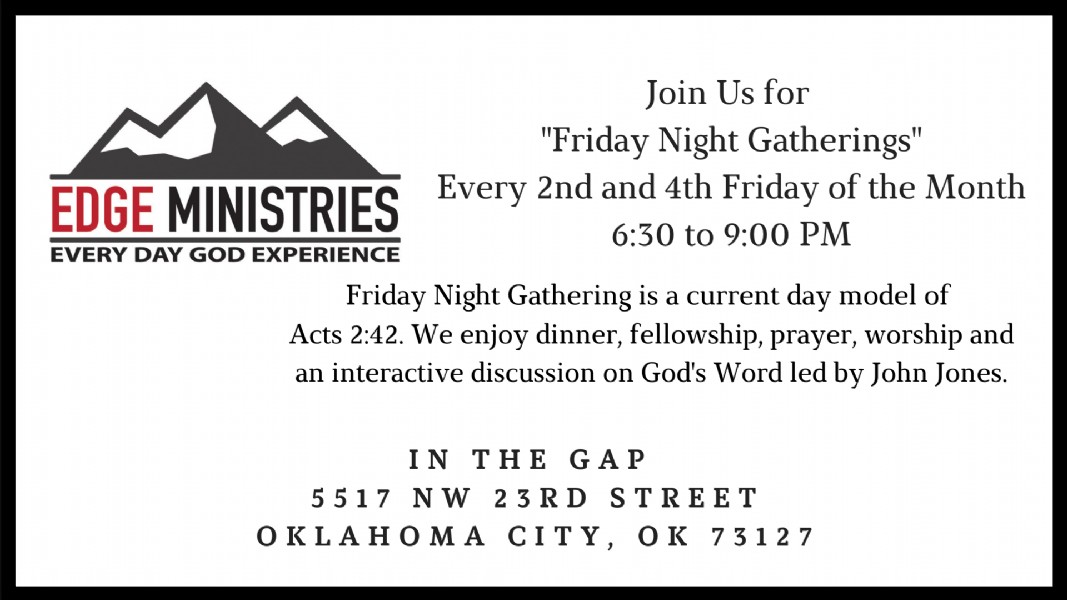 Friday Night Gathering is a current day model of Acts 2:42. We enjoy dinner, fellowship, prayer, worship and an interactive discussion on God's Word led by John Jones.
This is currently an adult only event.
Featuring

John Jones
John is a Pastor ordained by the National Association of Christian Ministers. He has been involved in Men's Ministry for the last 10 years and is passionate about teaching Men to understand their roles in God's Kingdom.
John graduated from University of Central Oklahoma with a degree in business management. He worked for Sherwin Williams for 15 years before leaving his career to pursue other endeavors. He organized amateur golf tours, helped with charity golf events, bought and sold rental properties for several years. After a failed marriage, he began to get serious about his personal relationship with his Savior, Jesus Christ.
He and his wife, Jaimi, founded EDGE (Every Day God Experience) Ministries and became a 501c3, a non-profit organization in November of 2016.
Event Location
In the Gap • 5517 NW 23rd Street • Oklahoma City, OK 73127 • US
Contact Information
Contact: John Jones
Phone: (405) 250-2905
E-mail: