Edgy Women Monthly Gathering
Thursday, July 22, 2021 from 6:00 PM to 8:00 PM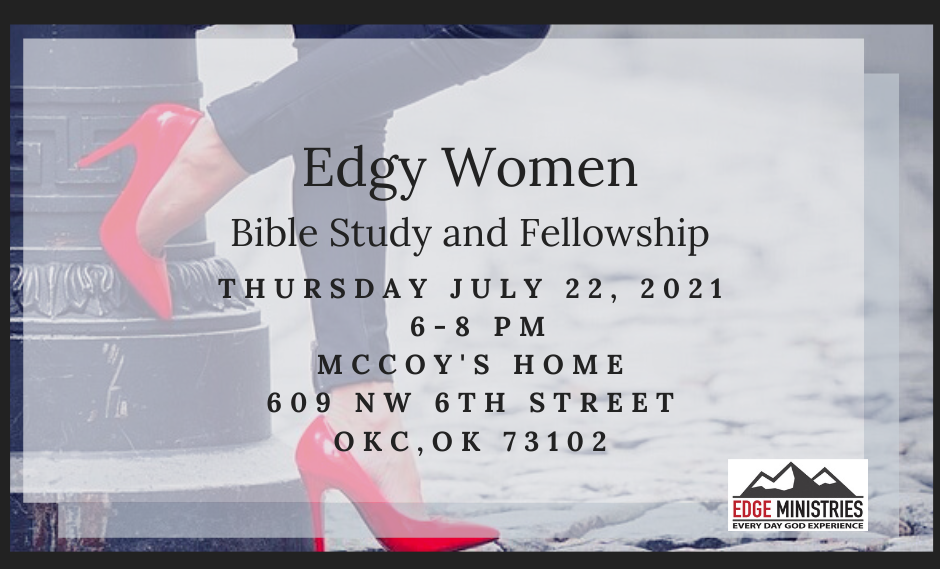 A women's gathering where we enjoy dinner and fellowship as we read and discuss God's Word and how it applies to us as women seeking to understand our roles as Women of God.
*No childcare provided. All Edgy Women events are structured as adult-only gatherings, ages 20 and up (limited exceptions as approved by EDGE Ministries)
Titus 2:3-5 " Titus 2:3-5 "Older women likewise are to be reverent in their behavior, not malicious gossips nor enslaved to much wine, teaching what is good, so that they may encourage the young women to love their husbands, to love their children, to be sensible, pure, workers at home, kind, being subject to their own husbands, so that the Word of God will not be dishonored."
Featuring

Jaimi Jones
Jaimi is a wife, mom and Yaya. She is a daughter of The Most High King and a passionate Prayer Warrior. She has been leading and teaching women through the study of God's Word for over 20 years.
Event Location
McCoy's Home • 609 NW 6th Street • Oklahoma City, OK 73102 • US
Contact Information
Contact: Jaimi Jones
Phone: 210.913.8333
E-mail: