Date Night with a Purpose
Saturday, October 24, 2020 from 5:50 PM to 8:50 PM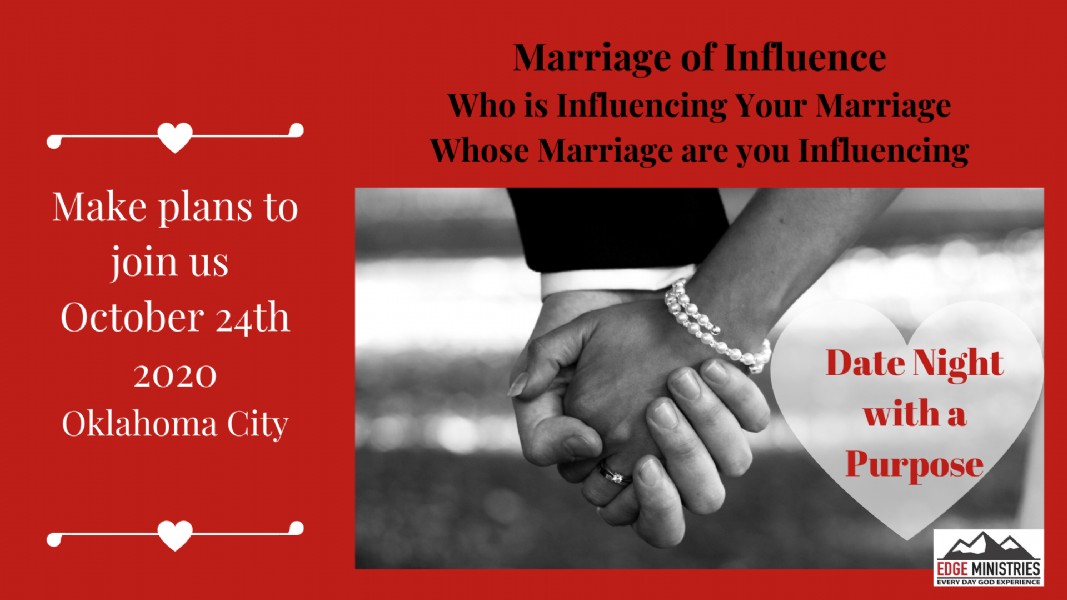 EDGE Ministries offers you a powerful teaching on God's Design for Marriage. You will leave with tools to build a stronger relationship with God and each other.
Your evening with your lover (husband or wife) begins at 5:50 p.m at the elegant dining room at Hidden Trails Country Club located in south Oklahoma City, just minutes from downtown. You will enjoy a relaxing evening beginning with a delicious meal prepared by Chef Shane Barlow of Hidden Trails Country Club.
After dinner, John and Jaimi Jones will present a message on marriage. After the message designed to inspire you to connect with your Lover, you will be served dessert and coffee as we fellowship and conclude our evening together approximately by 9:00 p.m.
The total investment per couple is $107.00.
NOTE: Tables, various dining practices, and all food and drink are prepared by Hidden Trails Country Club in accordance with CDC guidelines. This is a night for you and your spouse to get alone together for an evening out. Because of the intent of the evening, this is an adult only event.
Register now using the form below!
Featuring

John and Jaimi Jones
John and Jaimi Jones are the founders of EDGE (Every Day God Experience) Ministries.

John is a pastor ordained by the National Association of Christian Ministers.

They are instructors and mentors encouraging and teaching couples to live their best life by living out God's Design for Marriage, believing that "We are Better Together by God's Design". Their mission statement is:




Change

a Marriage




Change

a Family


Change

a Community


Change

a Culture
Event Location
Hidden Trails Country Club • 6501 S. Country Club Drive • Oklahoma City, OK 73159 • US
Contact Information
Contact: John Jones
Phone: (405)250-2905
E-mail: