Blog

Moving Through
By Jaimi Jones
Visitor Comments (0)
Be the first to post a comment.
Discuss On Facebook
While writing this blog I came across several quotes about adventure. We have come to look every day for adventure. Some are small and just seem to show up as a sweet gift, other adventures we dream about and plan with many details.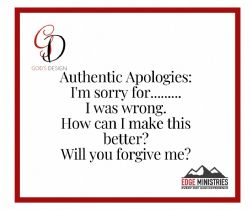 Learning to apologize can be difficult. There was a time when I thought apologizing was saying I was wrong. That is not always the case. Sometimes we are apologizing because we are sorry about how our words or actions hurt someone's feelings.
The thief is our enemy. He uses the same strategies today that He used on Adam and Eve in the garden. He wants to cause us to doubt the goodness of our Creator and to separate us from each other and from God.