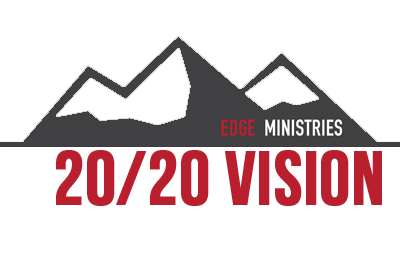 Click here for more information on our 20/20 Vision and how to get involved in helping to make a change.
Latest Articles
Creating Healthy Boundaries in Marriage Healthy Boundaries in Marriage protect and create security for each other. They are also an example to others, showing we value and respect the Marriage Relationship.
A Prayer for your Bedroom A short prayer to help you keep your bedroom consecrated to God's Design for marriage. Hebrews 13:4 (ESV) Let marriage be held in honor among all, and let the marriage bed be undefiled, for God will judge the sexually immoral and adulterous.
How to Stay Connected During the Holidays Happy Holidays Require Planning Communicate and Connect
Upcoming Events
December 12, 2019 - Men on the EDGE Weekly Morning Fellowship - Men on the EDGE - Weekly Thursday Morning Meeting
December 12, 2019 - EDGE Ministries Christmas Celebration - EDGE Ministries Christmas Celebration
December 13, 2019 - Friday Night Gathering - A casual night of fellowship. Dinner, Worship, and a discussion on the book of Galatians. Please let us know if you plan to attend so that we can plan food accordingly.
December 19, 2019 - Men on the EDGE Weekly Morning Fellowship - Men on the EDGE - Weekly Thursday Morning Meeting
December 19, 2019 - Edgy Women Christmas Fellowship - Edgy Women Fellowship and Bible Study
December 19, 2019 - Men on the EDGE Monthly Evening Fellowship - Men on the EDGE - Monthly Thursday Night Meeting
February 7, 2020 - Love is in the Air - Spring Valley Ranch - Love is in the Air - Lover's Retreat Friday February 7 thru Sunday February 9, 2020